Continuing Education Program (CEP)
Answers to Top 5 CEP Questions
(Click on a question to go to the Frequently Asked Questions Page for more information)
1. When did CEP start?
It started with the renewals in 2005
2. How many hours are required?
15 hours with at least 1 hour of ethics.
3. What activities count?
There are many different activities that can count. See the board rules or the FAQ for a list of the activities. All activities must be related to engineering in a technical, managerial, or ethical manner.
4. What do I need to report and how do I do it?
All you will need to do is check the box on your renewal form to certify that you have completed the 15 hour requirement. Keep documentation of the activities as proof in the case of an audit. Do not send in certificates, logsheets, etc. with your renewal forms.
5. Am I exempt from CEP?
All active PE's must perform 15 hours of CEP activities, even if they are over 65 or in exempt industry. There are four reasons that you can be exempt from CEP requirements:

Currently in Inactive Status
Disability
Deployed Military Service (min 120 days during year)
1st renewal after licensure via PE exam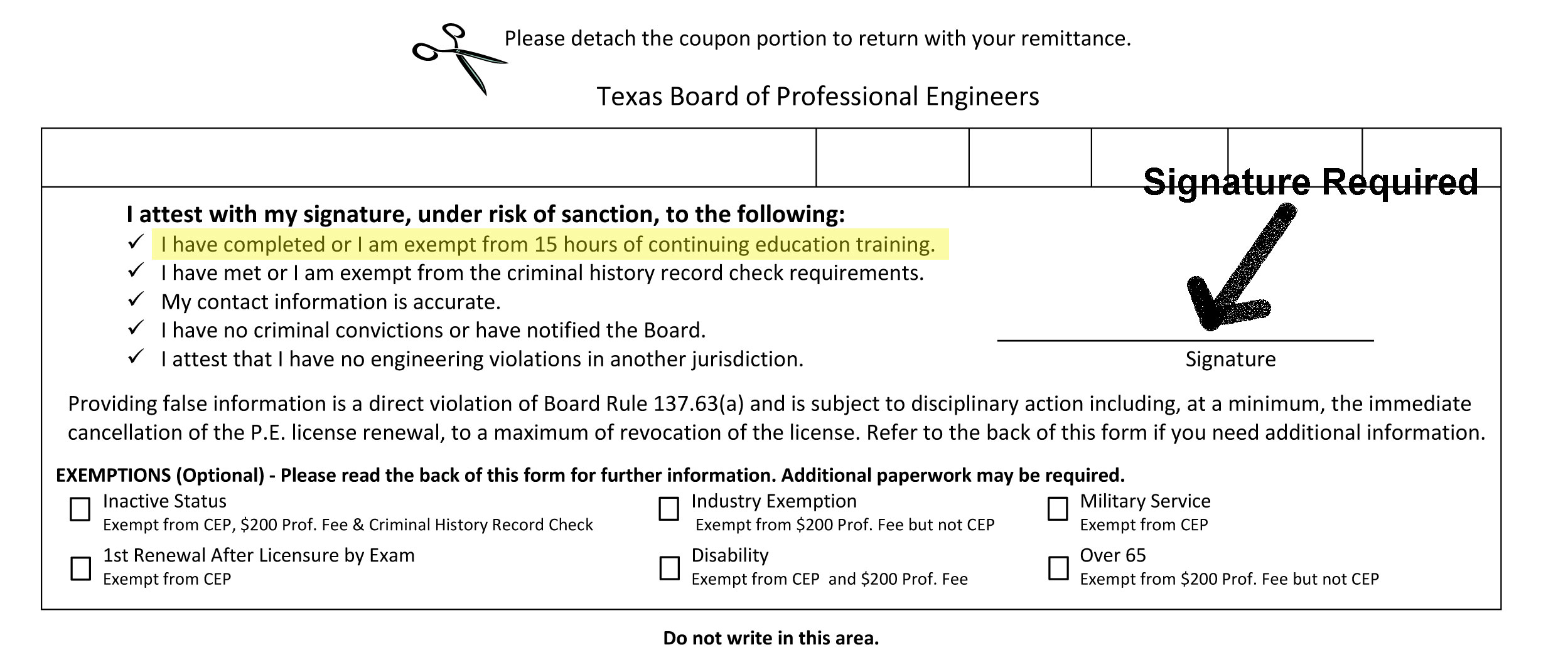 HOW TO REPORT CONTINUING EDUCATION (CEP)
1) Check the Continuing Education Box – Required Step
This verifies you have completed your continuing education training. Don't submit your education documents at this time. Documents will be required if you are audited.
All PEs must meet the continuing education requirement except the following:
Engineers who are in an "inactive status" at the time of the renewal.

Engineers who are on active duty in the military service;

Engineers who qualify for a disability exemption; or

Engineers who became licensed by exam within 1 year.
You are NOT exempt for any of the following reasons:
Over 65;

Not practicing engineering;

Industry Exempt; or

Retired.
2) Sign the Statement – Required Step
Sign your statement and submit your renewal payment with the invoice. Renewals will not be processed without both the signed form and the fee.
3) Mail your statement – Required Step
Put your statement with your check or money order, made out to TBPE, in the envelope provided, add postage to the envelope and mail it to our agency.
ADDITIONAL INFORMATION ABOUT CEP
Rules
Adopted CEP Rule - 137.17 - MS Word format
Adopted CEP Rule - 137.17 - html format
Web Pages
Continuing Education FAQ - Frequently Asked Questions about CEP
Continuing Education Presentation - Presentation about CEP
Compliance Flowchart - This flowchart outlines the renewal and audit process.
ECHO (the Board's online profile and payment application).
Forms for CEP
Download this log sheet and keep track of your PDH's for your renewals. Retain with your records for audit purposes. Do not send the log sheet in with your renewal.
CEP Log Sheet - MS Word format
CEP Log Sheet - .pdf format
CEP Log Sheet - MS Excel format
Self-Study Worksheet
Download this worksheet to help keep track of your Self-Study activities. Retain with your records for audit purposes. Do not send the worksheet in with your renewal.
Self-Study Worksheet - MS Word format
Self-Study Worksheet - .pdf format
History of CEP
During the 78th legislative session (2003), SB277 was passed instructing the Texas Board of Professional Engineers to develop and implement a Continuing Education Program (CEP). (See SB277, section 17 adding Section 1001.210 to the Occupations Code.)
September 1, 2003: SB277 became effective as law.

October 9, 2003: Quarterly Board Meeting. CEP Proposed Rules adopted with changes.

November 7, 2003: Proposed Rules published in Texas Register. Public comment period began.

December 7, 2003: Public comment period ended.

January 14, 2004: Licensing Committee Meeting. Public Comment and possible rule changes were presented and discussed. The proposed rule was adopted with non-substantive changes.

January 15, 2004: Quarterly Board Meeting. Proposed CEP Rules adopted with non-substantive changes.

May 20, 2004: Board Rules Recodified. CEP Rules move from 131.139 to 137.17.

Jan 1, 2005: CEP program began. License holders are required to submit their first CEP hours with the renewal they receive in 2005.