The Texas Board of Professional Engineers' (TBPE) Board e-Newsletter
September 22, 2015
The TBPE eNewsletter is your quarterly update about your Texas PE License and Board activities and is a supplement to the TBPE Express annual printed newsletter.
P.E. Licensure and Renewal Fee Reductions
TBPE is excited to announce that effective September 1, 2015, licensed Professional Engineers will no longer pay the $200 Professional Fee associated with license renewals, applications for new P.E. licenses, or reactivation of licenses in inactive status. For many Texas P.E.s, this will mean the annual renewal will be reduced from $240 to $40 annually. This fee change will be a substantial savings for both individual P.E.s as well as companies that employ and reimburse engineers for their renewals, and may reduce cost concerns for new engineers considering licensure. The change will be reflected automatically on your license renewal statement, starting with the September 2015 renewal cycle. In addition to this reduction in renewal fees, other savings have been realized due to operational efficiency and fiscal responsibility. Based on these savings and the removal of the professional fee, the Board has voted to re-balance our fee structure and reduce the late renewal fee for P.E. licenses from $75 to $40.
---


Proposed Board Rules
Rule changes proposed in the August 27th Board meeting have been posted for comment. They are related to recently passed legislation. Changes include new options for military service members, state contract guidelines, lowered late fees and removal of the $200 professional fee. Comments may be submitted prior to October 18, 2015. Click on the link below to read proposed rule changes and/or submit comments.
---
2015 Newsletter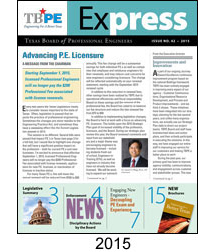 The TBPE annual newsletter, "Express" contains detailed information on recent legislative changes, fee changes, Board initiatives and engineering trends as well as Board enforcement actions. The printed publication will be mailed out to all P.E.s at the end of this week. If you do not receive a copy in the coming weeks, you may have opted out of receiving this publication in your communication preferences. If you would like us to change these preferences and/or mail you a printed version, drop us an email to info@engineers.texas.gov. Click on the link below to read the electronic version.
---
BOARD MEETING UPDATE
The Texas Board of Professional Engineers Quarterly Board and Committee Meetings were held August 26-27, 2015. Highlights include the following:
Disciplinary Actions
All enforcement actions approved in the board meeting are posted on the TBPE website. Enforcement actions are reported based on the date of the board meeting at which the actions were taken. Refer to: http://engineers.texas.gov/disciplinary.htm
Video Clips
Viewing these recordings qualifies for continuing education credit under the category of self-directed study. A maximum of five credit hours may be accrued for self-directed study. Stream video of the Board Meeting by clicking on the link below.
---
WEBINARS AND OUTREACH
TBPE continues to offer ethics outreach presentations both in person and in a webinar format for the convenience of our licensees. The free webinars have been so well received that we are now adding additional events as needed.
Student Webinar
You have questions, we have answers. Review of the Fundamentals Exam (FE); Computer Based Testing (CBT); any other questions about becoming a licensed Professional Engineer.
October 20, 2015, 5-6 p.m.
Registration Link
Licensing Webinars
Information on the application process and the requirements to become a Licensed Professional Engineer in Texas.
October 20, 2015, 12-1 p.m.
October 21, 2015, 12-1 p.m.
Registration Link
Ethics Webinars
Provides an up-to-date overview of agency activities, case studies, and a review of professional ethics topics.
December 3, 2015, 10-11 a.m., 12-1 p.m. and 2-3 p.m.
P.E.s renewing the quarter of the webinar will be sent an email notification of the upcoming event. Registration will open November 3, 2015

Each webinar is limited to 1,000 attendees. Registration links for all webinars are posted at http://engineers.texas.gov/webinar. If you are interested in scheduling a live TBPE ethics presentation at your workplace, refer to our outreach page at: http://engineers.texas.gov/outreach.
---
AND MORE:
Give us feedback on how we are doing by filling out our customer service survey. Please visit our website at http://engineers.texas.gov/feedback or call us for a paper survey. We want to hear your suggestions on how we can improve agency operations and service delivery.
In keeping with our efforts to modernize and increase communication with our licensees and the public, you can now follow us on Facebook, Twitter, LinkedIn and via an RSS feed. Join today!
NOTE: This email was sent from an unmonitored mailbox; direct replies will not be read. To contact the Board, please visit our website at: http://engineers.texas.gov/staff_contact.htm