Latest News
NCEES UPDATES
FE Exam Content Reviewers Needed
NCEES Discontinuing PE Software Exam
PE Environmental Exam Moving to Computer-Based Testing
PE Nuclear Exam is now a Single-Day Computer-Based Test



PUT DREAM BIG IN EVERY SCHOOL IN AMERICA
Give $5 to place a DVD toolkit in the school of your choice.
ASCE with generous support from the United Engineering Foundation (UEF) has set an ambitious goal: to put a copy of the Dream Big film and educational toolkit in every public school in America. Refer to: https://www.engineersdreambig.org/
JOB OPENINGS
TBPE has an opening for an Investigator and a Customer Service Representative. Refer to the linked page for the job descriptions and instructions to apply.
LICENSURE VIDEOS
TBPE staff produced a series of new instructional videos to assist applicants. Click on the image below to go to the YouTube playlist.

THE VALUE OF P.E. LICENSURE VIDEO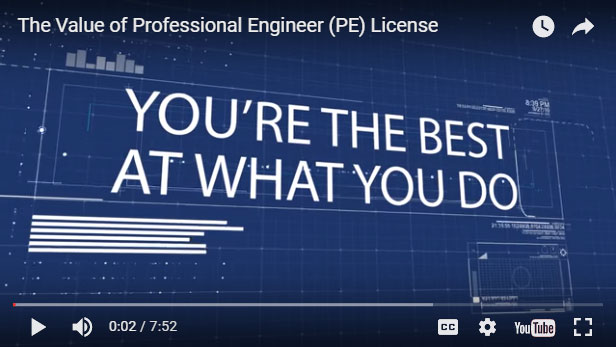 The link above will launch a video which explains the value of the Professional Engineer License and the necessary steps to becoming a P.E. in Texas. The video was produced by TSPE (the Texas Society of Professional Engineers) in cooperation with TBPE.
WHEN IS A P.E. REQUIRED ON A BUILDING PROJECT? Use this one page diagrammatic to make sure your project is in compliance with the Texas Engineering Practice Act. It is a great reference for engineers, plan reviewers, city and county officials, and owners.
TECHNICAL EXPERTS - The Board needs your help! Refer to the linked page for additional information.