Latest News
RULES POSTED FOR COMMENT
Refer to the Proposed Rules Page for rule language and instructions to respond. The deadline is January 15, 2017.
PROPOSED POLICY ADVISORY
The Board has researched and authored a Policy Advisory Opinion regarding a Texas Real Estate Commission licensed inspector providing a draft opinion on a residential foundation and its relation to the practice of engineering.
Engineering Advisory Opinion Request 43
Any comments to the policy advisory opinion may be submitted by January 15, 2018, to David Howell, P.E., Deputy Executive Director, Texas Board of Professional Engineers, 1917 S. Interstate 35, Austin, Texas 78741, faxed to his attention at (512) 440-0417 or sent by email to rules@engineers.texas.gov.
PE EXAM GRADES
October 2017 PE Exam Grades are available. Refer to: http://engineers.texas.gov/grades
JOB OPENINGS - TBPE has several job openings. Refer to the linked page for the job descriptions and instructions to apply.
LICENSURE VIDEOS - TBPE staff produced a series of new instructional videos to assist applicants. Click on the image below to go to the YouTube playlist.

"DECOUPLING" OF PE EXAM AND EXPERIENCE
As of May 1, 2016 rule changes allow a Texas EIT (Engineer in Training) to register for the PE exam prior to meeting the full experience requirement if they choose to do so. The exam is now "decoupled" from the experience requirement for licensure.

THE VALUE OF P.E. LICENSURE VIDEO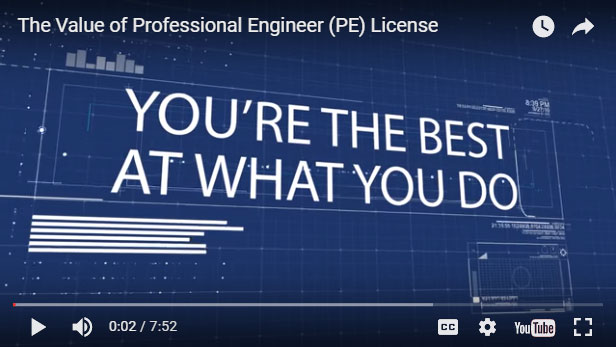 The link above will launch a video which explains the value of the Professional Engineer License and the necessary steps to becoming a P.E. in Texas. The video was produced by TSPE (the Texas Society of Professional Engineers) in cooperation with TBPE.
WHEN IS A P.E. REQUIRED ON A BUILDING PROJECT? Use this one page diagrammatic to make sure your project is in compliance with the Texas Engineering Practice Act. It is a great reference for engineers, plan reviewers, city and county officials, and owners.
CRIMINAL HISTORY RECORD CHECK - Refer to the linked page for frequently asked questions, links to registration, forms and updated information as it is available.
TECHNICAL EXPERTS - The Board needs your help! Refer to the linked page for additional information.