Latest News
JOB OPENING - TBPE has an opening for a Director in our Compliance & Enforcement Division. Refer to the linked page for the job description and instructions to apply.
LICENSURE VIDEOS - TBPE staff produced a series of new instructional videos to assist applicants. Click on the image below to go to the YouTube playlist.

NEW LAW & RULES DOCUMENT - Effective June 19, 2017, changes to rules 137.19 and 139.35 implement the requirements of House Bill 2439 passed by the 84th Texas legislature in 2015, which removed the special roster of engineers qualified to be windstorm inspectors.
TBPE 80th ANNIVERSARY
March 18, 2017, was the 80th Anniversary of the New London School Explosion, a terrible accident that ultimately led to the creation of the Texas Engineering Practice Act and the creation of the Texas Board of Professional Engineers.

85th LEGISLATIVE SESSION
No bills have been filed that directly impact the Texas Engineering Practice Act (Occupations Code 1001). Refer to the linked page for a summary of the 85th Legislative Session as well as other helpful links.

"DECOUPLING" OF PE EXAM AND EXPERIENCE
As of May 1, 2016 rule changes allow a Texas EIT (Engineer in Training) to register for the PE exam prior to meeting the full experience requirement if they choose to do so. The exam is now "decoupled" from the experience requirement for licensure.

THE VALUE OF P.E. LICENSURE VIDEO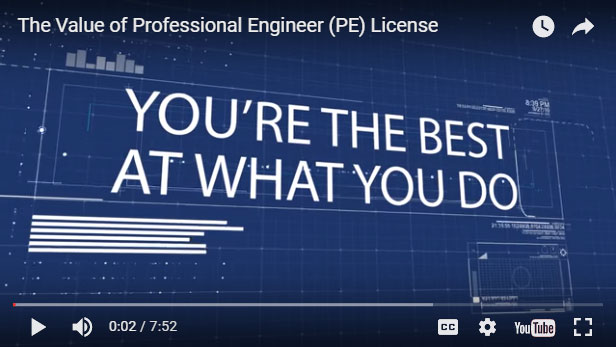 The link above will launch a video which explains the value of the Professional Engineer License and the necessary steps to becoming a P.E. in Texas. The video was produced by TSPE (the Texas Society of Professional Engineers) in cooperation with TBPE.
WHEN IS A P.E. REQUIRED ON A BUILDING PROJECT? Use this one page diagrammatic to make sure your project is in compliance with the Texas Engineering Practice Act. It is a great reference for engineers, plan reviewers, city and county officials, and owners.
CRIMINAL HISTORY RECORD CHECK - Refer to the linked page for frequently asked questions, links to registration, forms and updated information as it is available.
TECHNICAL EXPERTS - The Board needs your help! Refer to the linked page for additional information.